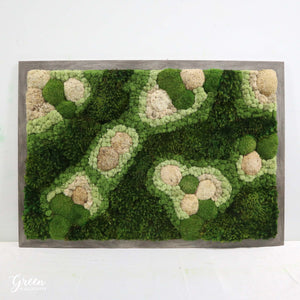 Organic Moss Design Plant Painting | White Moss Art | Organic Design
Regular price $1,600.00 Sale
This organic moss design is in a sage color palette with white moss and a 26" x 38" washed grey frame. This plant painting is designed with preserved materials with unique white and sage colored mosses! An organic design is perfect for any home or business space that's looking to add plant art and the comforting essence of nature into an indoor setting!
All pieces are one-of-a-kind and inspirations from previous designs. Please keep in mind that all designs are made with natural materials where colors can vary. 
This item is ready to ship with estimated shipping time of one to two weeks.

For inquiries please email us at info@greenwallscapes.com